Relaxing while viewing the river Moselle
"I love the nature around the hotel Zum Fährturm. A magnificient view of the river and vineyards."
Christiane Brand-Müller
"Zum Fährturm", German for "near ferry tower" – it is not only the name of our hotel: it furthermore describes its location in the heart of Mehring. Located next to the old ferry tower, you can see the beautiful river Moselle from every room. The Moselle is known for its wines. Mehring is also a good starting point for several acitivities.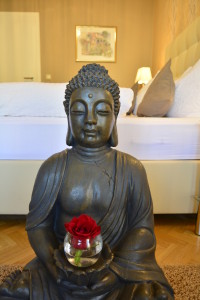 My family has been working with guests for a long time. However, we don't consider tradition and modernity as contrarities. Recently, we refurbished all of our rooms: warm colours, comfortable bath rooms and a high-end flat screen TV. Furthermore, all of our rooms have a balcony. We use a modern, ecological heating and electricity system and offer free of charge wifi access in the entire hotel.
All of our rooms are non smoking areas.
Price list of our rooms
Single bed room: 52 €
Double bed room: 72 €
Room with three beds: 98 €
Room with four beds: 118 €
Dogs: additional 10 € per night
For longer stays, please also consider our special offer: If you stay for four nights or longer, we offer a 3 € discount per day (calculated from the first night on).